Waitstill Scott was an early settler of Westmoreland, Cheshire County, NH. He is cited often in the town records from August 16, 1775 to March 14, 1787 at least. He was a frequent committee member, as well as selectman, highway surveyor, tithing man, dear (sic) keeper, and hogreave.
He swore his allegiance to the united American colonies against the British in 1776 in Westmoreland, Cheshire, NH. He was a Lieutenant in 1776 and a Captain in 1777.
Commanded a company that marched from Westmoreland on alarm to Fort Ticonderoga in May 1777. Also served at White Plains in Colonel Nahum Baldwin Company.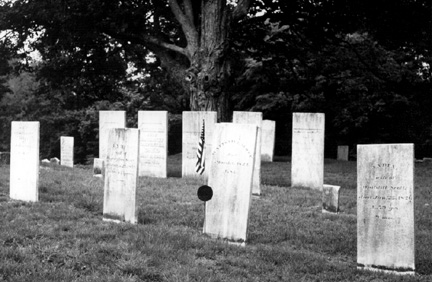 View above shows the graves of Waitstill and Lydia Scott atop the hill in
Spofford Cemetery, Chesterfield, Cheshire County, NH.
(center with the flag and right)