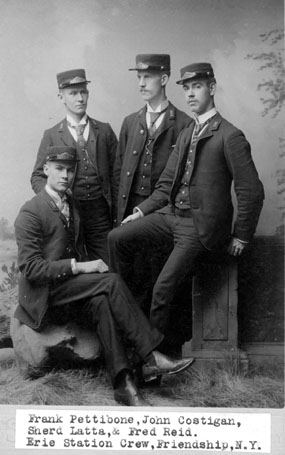 From Reminiscing!
by Sheridan Gorton Latta (1867-1955)
...I received a telegram from John Costigan, from Friendship, saying that Will Hasley was quitting at such a date and asking if I would come back and take the job. Being so greatly interested in the future Mrs. Latta, I was not long in answering, and was soon on my way back East. I again stopped at Verndale for a final visit with (brother) Frank (Latta). I do not recall the exact date, but it was the latter part of 1889.
The old Erie Station had been greatly changed since my first job there. They had taken one corner of the large combined freight and baggage room for an office for the track supervisor, made two small waiting rooms into one, done away with the Station Agent's living quarters making the living room the freight office, and tearing down the whole east end which gave the waiting room windows on the end as well as on the sides. The biggest change, however, was that John J. Costigan had replaced George W. Fries as Station Agent. I was baggage and freight agent, helping with the express business and carried the US Mail to and from the Post Office to the Mail trains. Frank Pettibone and Fred Reid worked the opposite trick as ticket agent and telegraph operators and the four of us, all about the same age, made a very friendly working crew, and we stayed the best of friends to the end. Sad to relate, I am the only one left to tell the story.
Frank Pettibone is seated left, standing from left are
John Costigan, Sheridan Latta, and Fred Reid